Courtesy of thew
New York Times
:
Andrew G. McCabe, the former F.B.I. deputy director and a frequent target of President Trump's scorn, was fired Friday after the Attorney General Jeff Sessions rejected an appeal that would have let him retire this weekend.
Mr. McCabe promptly declared that his firing, and Mr. Trump's persistent needling, were intended to undermine the special counsel's investigation in which he is a potential witness.
Mr. McCabe is accused in a yet-to-be-released internal report of failing to be forthcoming about a conversation he authorized between F.B.I. officials and a journalist.
In a statement released late Friday, Mr. Sessions said that Mr. McCabe had shown a lack of candor under oath on multiple occasions.
"The F.B.I. expects every employee to adhere to the highest standards of honesty, integrity and accountability," he said. "I have terminated the employment of Andrew McCabe effective immediately."
McCabe however disputes that explanation:
McCabe in a statement: "Here is the reality: I am being singled out and treated this way because of the role I played, the actions I took, and the events I witnessed in the aftermath of the firing of James Comey."

— Tara Palmeri (@tarapalmeri) March 17, 2018
McCabe was even more blunt in another interview:
"The idea that I was dishonest is just wrong," he said, adding, "This is part of an effort to discredit me as a witness."
It should be pointed out that a Fox News draft of their article on this firing was leaked on Twitter hours before anybody else knew it was happening.
Someone at Fox News accidentally published the draft of a "McCabe fired" story, even though the firing hasn't happened. Twitterers are starting to share the link, thinking it's real.

pic.twitter.com/QZPkLcyFLN

— Brian Stelter (@brianstelter) March 16, 2018
So clearly Trump's favorite "news" outlet was given a heads up well before the rest of the media was informed about this unprecedented decision.
By the way we should also remember that Trump has been trolling McCabe about this possibility for months now.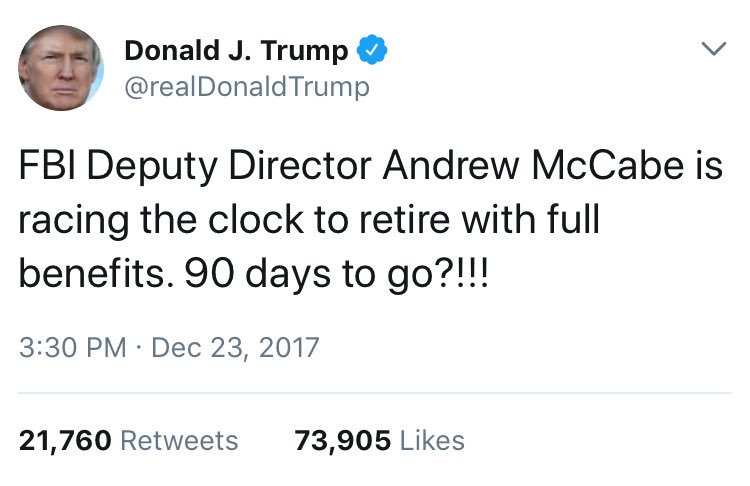 This is how the president of the United States treats a man who gave over 20 years in service to his country.